BSL Jobs Victoria
The Brotherhood of St. Laurence (BSL) Jobs Victoria program provides a free voluntary employment service for long-term jobseekers living in Melbourne's Western, Northern and Southern regions. We also support employers by working with them to strengthen and diversify their workforce.
Our approach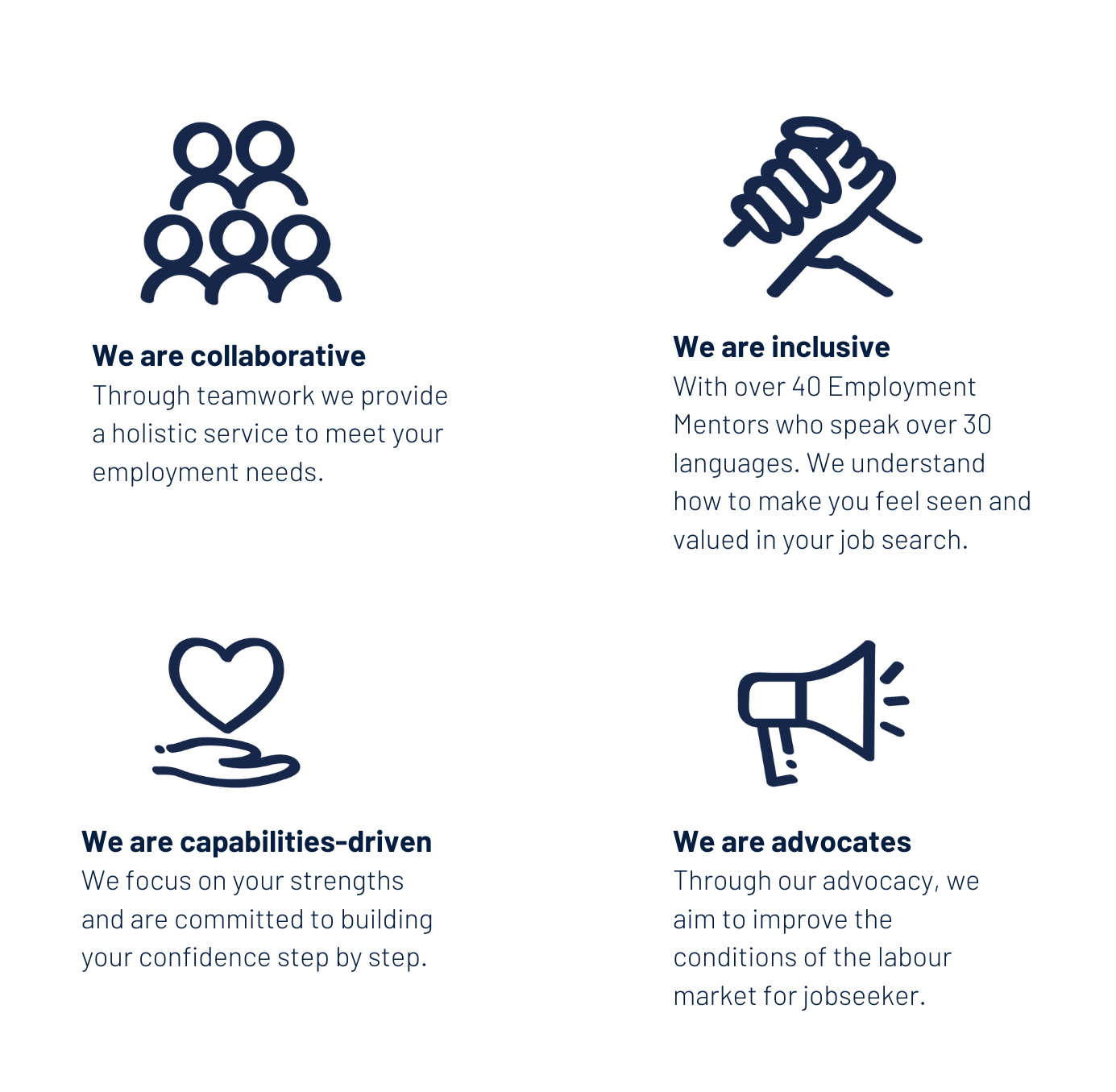 Job seeking stages
Step 1 Engagement
We are a free voluntary employment service, if you want employment support, connect with us to register.
Step 2 Intake
If eligible for the program, we will take you through the intake process to understand how to best support you.
Step 3 Preparation
We will coach you through resume writing, cover letter support and interview preparation to get you job ready.
Step 4 Placement
Through job searching and our connections with employers, we will support you till you get a job.
Step 5 Post placement
After placement, for 6 months we will continue to support you to ensure you can sustain employment.
Who can join our program
To be eligible for BSL Jobs Victoria, you must meet one of the following criteria.
people who have been unemployed for six months or more or are at risk of long-term unemployment
people who work less than 12 hours per week in casual or temporary work
asylum seekers and refugees with work rights
Our projects
Designed to help young people find their first job. This program is for students aged between 15 to 29 years, who live in the Flemington or North Melbourne Housing Estate and who have never done paid work.
Working stories
This program utilises an innovative recruitment model, working intensively with employers and jobseekers. Hiring through BSL Jobs Victoria gives employers the opportunity to grow and diversify their workforce, foster social benefit and inclusion in workplace communities, and meet their social procurement objectives.
Jobseekers receive one to one assistance to create an employment pathway. This includes help navigating the Australian working culture, interview skills and connection with employment opportunities. Everything is done with a focus on developing new skills and renewing confidence.
For more stories visit our socials 
How to refer someone
To refer to BSL Jobs Victoria, please download, fill out and return the application form to the relevant email below.
Contact BSL Jobs Victoria teams

Employers
Employers interested in learning more about the program can contact:
Simon Gray
Email: simon.gray@bsl.org.au
Phone: 0427 258 521
This program is supported by Jobs Victoria. Jobs Victoria supports people looking for work and connects employers with the staff they need -in person, online, and on the phone. Learn more at  jobs.vic.gov.au.