25 ways to keep the kids entertained during lockdown
Calling all parents and carers! Times are pretty challenging at present and while the light at the end of the tunnel may sometimes seem out of reach, we will get through this together.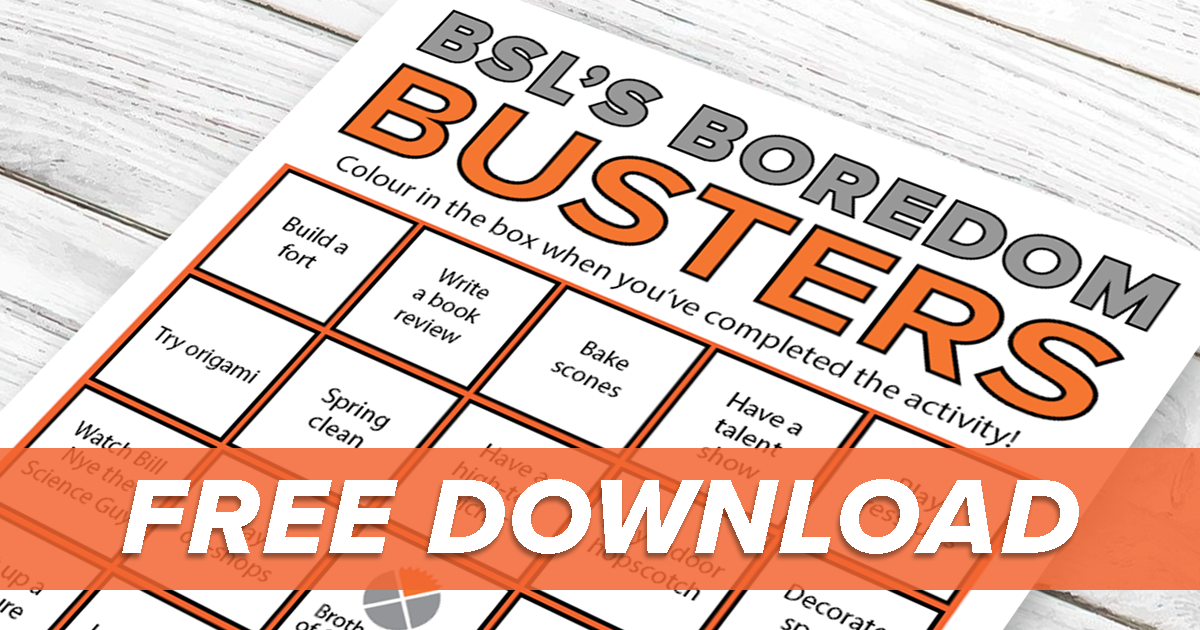 To help you beat the lockdown blues and combat the declarations of boredom we've heard far too many times, we've pulled together 25 fun isolation activities for kids to do at home.
1. Build a fort
So simple, but the fun can last for hours! Use boxes if you have any, otherwise reorganise the furniture and drape with blankets. Don't forget to fill it with cushions for extra comfort!
2. Write a book review
Reading is a great way to pass the time, and if you set a task for kids to write a review, they're likely to engage with the book more and improve their literacy skills. Here's a few prompts to help them get started:
What was the story about?
Describe the main characters.
What did you like most about the book?
What did you dislike most about the book?
Draw a picture to show your favourite part of the book.
Don't forget a rating!
Stuck for books? We've got thousands to choose from! Head to our online bookstore, Brotherhood Books to find the perfect reads for your family.
3. Bake scones
Baking is a great way to get kids interested in cooking and develop their skills in the kitchen. Cooking for the pleasure of it is amazing – and so is eating the yummy treats afterwards! If you don't have your own recipe, we recommend this easy scone recipe from Kidspot .
4. Have a talent show
Roll up! Now's the time to brush off the hairbrush and show-off all those hidden talents. From singing like they're on Australian Idol, to a dance routine from Bring It On, it's time for them to show you their hidden skills!
5. Play dress-ups
An ice queen, a minion and a superhero enter the loungeroom … you get the idea! Let your imagination run wild and re-enact scenes from your favourite shows, movies or books.
6. Try origami
Let the folding fun begin! Origami is fun for kids to learn and projects will keep them busy and entertained for hours! Learn how to make dozens of different shapes and designs .
7. Spring clean your wardrobe
Spring is almost here and the perfect way to banish the winter lockdown blues is to get the kids involved in a big spring clean! Pump up the music and get the little ones moving. It's a great way to get them to take ownership of their belongings and get them to reuse things they'd forgotten about.
If you have pre-loved items to donate that are still in good shape we'd love to take them off your hand when our stores reopen again. View our op shop locations and trading hours .
8. Have a high-tea picnic
Who doesn't love high-tea? Now that the weather is warming up, if you have an outdoor space at home why not lay out a rug and enjoy the sunshine while you snack on delicious sandwiches, biscuits and pastries? If you don't have an outside area, the loungeroom floor works just as well for a picnic!
9. Play indoor hopscotch
Just because the playground is closed, it doesn't mean the fun has to stay outside. Using tape, mark out a hopscotch course for the kids in a cleared area. Once you've made all the boxes and numbered them, give the kids a little beanbag, hacky sack or wheat bag to use in place of a pebble. Not only is this classic game great for developing balance, jumping skills and number recognition, it's also sure to help them get some of that endless energy out!
10. Decorate spoon characters
Like the rainbow and teddy bear hunt the little ones participated in during the first lockdown, this new craze aims to put smiles on the faces of kids and adults alike. Spoonville is the new game and it involves creating colourful spoon characters to plant in villages around the neighbourhood. For more ideas, head to Spoonville Internationational .
11. Watch Bill Nye the Science Guy
If your kids haven't watched Bill Nye the Science Guy before, they're in for a real treat! Head to the Bill Nye the Science Guy website , or watch on YouTube for safe experiments the kids can conduct at home. The wacky and engaging episodes are sure to get the whole family giggling and you'll no doubt learn a few things along the way – we sure did!
12. Play op shops
Keep the little ones entertained by changing up the usual shops game by getting them to play op shops! What's the difference? Well, it's about learning to buy second-hand instead of buying new and what the value of doing so includes, such as:
Reducing the number of textiles that go into landfill each year, having a positive impact on our environment.
There are plenty of good-quality items available for affordable prices! Clothes and belongings that may have only been used once or twice deserve a second home with someone who will love them.
Op shops are community hubs! They're a safe place where people can go to have a chat when they drop off donations with someone who wants to listen.
Shopping from op shops provides important funds that support the community and work towards reducing poverty.
Learn how the Brotherhood of St. Laurence is working towards an Australia free of poverty .
13. Create a time capsule
Since we're living through historic days, we could be keeping a record of all the things happening right now. Check out this list of ideas on things you might like to include in your family's coronavirus time capsule .

14. Read with your family
Reading is a fun way to spend the afternoon with the family. Pull up a bean bag or pillow and book they'd like to read. If there's book fatigue happening in your house, head to our online bookstore and let them choose the books they'd like to order.

15. Set up a treasure hunt
The best treasure hunt starts with a realistic map. Once the kids have drawn out the map, stain the paper using cooled black tea to give it an authentic look. Also, the best treasure hunt always ends with the discovery of a great treasure, whether it be a baked cake or a new game for the family to play.
16. Learn how to crochet
Learning to crochet is so much fun and given the spare time we have, it's a great opportunity for the kids to learn this ancient art. Discover some simple projects to get them started at All Free Crochet .
17. Play charades
Who doesn't love a game of charades? Get the family involved in this classic guessing game where one player acts out a word or phrase. Invite friends and family to play with you via zoom and make it a regular game night for the kids to look forward to.
Here's some helpful reminders in case you've forgotten!
Book: Open your hands and pretend you are opening a book
Movie or film: Pretend you are using an old movie camera, holding with one hand and winding with the other
Person: Place your hands on your hips and stand tall
Place: Draw earth (a circle) in the air with your fingers and point to it
Song: Pretend to sing a song by cupping your hand to your mouth like a microphone
TV show: Draw a TV with your fingers – simply a rectangle in the air will do.
18. Listen to a podcast for kids
If your little one is always 'but, why?' and you're not quite sure how to answer the questions? There are some really great podcasts with kid-friendly content that can answer those brain-wracking questions. There are even some great resources here on ways you can explain the Coronavirus situation to your little ones. Tune in to But Why?
19. Do yoga as a family
The YouTube account Cosmic Kids Yoga has all kinds of yoga-for-kids videos. But it's not just for kids – the whole family can get involved!
20. Video call school friends
Video chats are helping us stay connecting with our friends and family and it's super important to keep the little ones social by setting up video play-dates with their school mates. Whether you want to video chat one on one or with a big group, there are plenty of free video calling options to suit your needs.
Here are the best video chat apps to use to turn social distancing into distant socialising
Skype
FB Messenger
WhatsApp Messenger
Google Duo or Hangouts
Zoom
FaceTime
Viber
21. Put on a play
If your kids are into role-playing and dream of a life in the spotlight, offer them the chance to show off their skills. Allow them to select a story and stage a play for you (you can bring the popcorn!). Setting up the sets, sourcing costumes, rehearsals making theatre posters are sure to keep them busy for a few hours.
22. Regrow the food from your fridge
Find yourself buying the same veggies week in, week out? Instead of throwing away the ends of your celery bunches, why not grow a new bunch? Get the kids to regrow vegetables from kitchen scraps and they can experience the magic of propagation! From potatoes to carrots, cabbage to spring onion, all you'll need to get started is a sunny window sill, some jars, pots and a little soil.
The kids will love checking in each day to see how their plant babies are going! Check out these really simple infographics that range in difficulty level and growing time .
23. Play a board game
Board games are a great way to see just how competitive everyone in the family really is, and are also a great way to entertain yourselves during lockdown. Set up a tournament and see who comes out on top!
Some of our favourites are Monopoly, Guess Who and Pictionary, and for something a bit more physical, get onto Celebrity Heads and Twister.
24. Make slime
Are your kids curious about experimenting with slime? Do it at home safely with this quick guide. Making slime is one of the simplest, yet most fun ways to keep busy.
All you need is:
Glue
Borax
Water
A bowl
A mixing tool.
To jazz things up, add food colouring and glitter! Learn how to make slime for beginners .
25. Have a movie night
Missing the true cinema experience? Set the kids up on the couch, grab the popcorn and their favourite blanket and snuggle up to old time favourites or challenge the family to a movie-marathon (Harry Potter, anyone?).
Make your own snack bar full of the family's favourite drinks and treats and enjoy a night-in with something everyone will want to see!
Free BSL Boredom Buster guide
Download your FREE BSL Boredom Buster guide

Free Hunter Gatherer Boredom Buster guide
Print
Share